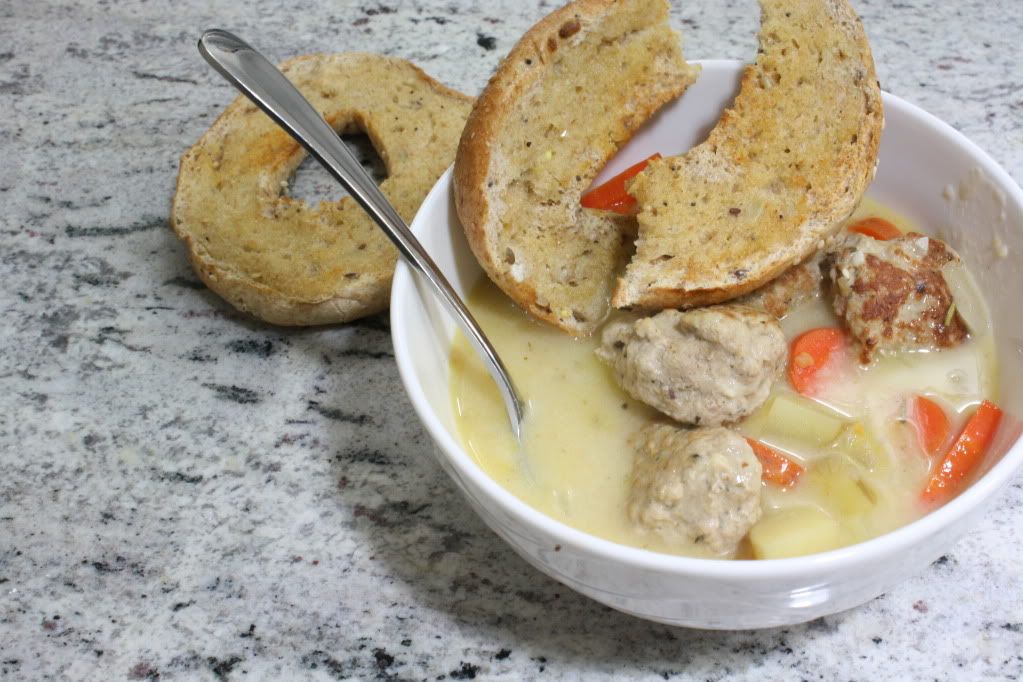 The news is out and this new endeavour has officially launched!
So, what exactly is this? What am I trying to do here? What's the point? And why keep This Dusty Kitchen separate from This Dusty House?
This is why:
Some days, some weeks, all I can think about is food. I love food. I love making food. I love photos of food and taking photos of food. I love eating it even more. I think about food
a lot
.
I also think about my house a lot. But my relationship with food and my relationship with my house are very different parts of my life. They are not fully separate and never should be. But a friend with whom I will chat incessantly about the concoctions coming out of my kitchen is not always the same friend with whom I will chat incessantly about paint colours and tile and reupholstering furniture.
(Of course, there are friends with whom I chat incessantly about anything and everything.)
So, in this new 'sub-domain' of my blog, you'll find all the things I'm finding delicious these days and maybe a few things I'm not finding delicious (don't worry, I'll warn you). You'll find the experiments and the tried and true. You'll find the victories and the flops. Here, I'll indulge the conversation I love to have about food, the conversation I've kept muted on This Dusty House for fear of taking over the other conversations.
You want food? You'll find food here. You want DIY and decorating?
You'll find that over there.
You want both? It's all This Dusty House.
-~*~-
Admittedly, for the first little while, you probably won't find much here that you won't be able to find on other food blogs. I'm unsure yet how I'll define myself in the already saturated library of blogs. I'm unsure how anyone defines themselves in this realm. And you know what? I'm ok with that. Even if what I have to say is the same as what everyone else has to say, at least I'll be saying it in my own way.
It's kind of like this soup. It's a basic soup, and as I was making it, I was looking for the extra little zing that would bring it over the top, out of the realm of chicken soup and into the realm of oh-my-goodness-I-can't-stop-eating-this. I didn't find it. But, as I cradled the warm bowl in my hands and ladled the creamy broth into my mouth, and broke apart the soft meatballs into more manageable pieces, I decide that it didn't matter. It was delicious. Perhaps not this-is-the-best-soup-I've-ever-had kind of delicious, but delicious none-the-less.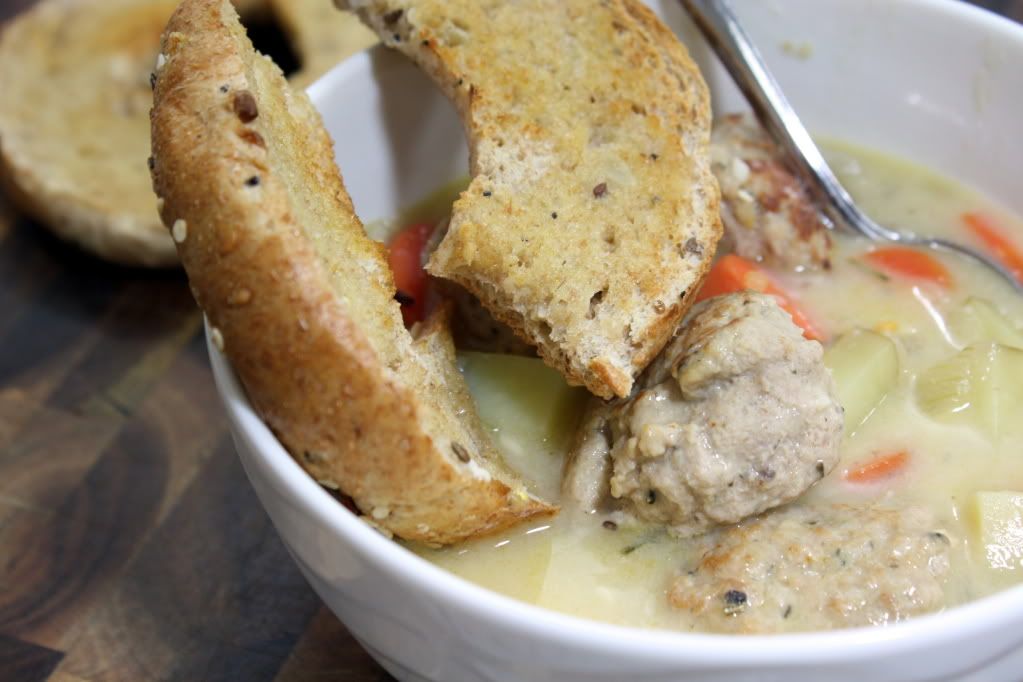 Creamy Chicken Meatball Soup
For the meatballs, adapted from The Joy of Cooking:
1 lb ground chicken
1 large egg
1/4 cup Parmesan cheese
2 tbsp milk
2 tbsp breadcrumbs
1 tsp dried basil
2 tsp Montreal chicken spice
2 tbsp olive oil
Mix everything together.
Heat olive oil on a large skillet.
I had never made meatballs from chicken before and was surprised at how soft the mix was. I tried forming the balls with my hands as I would with ground beef, but the balls weren't holding their shape anyway, so I grabbed a couple spoons and scooped up the mix and dropped it onto the skillet as one would put drop cookies onto a baking sheet. Place the meatballs in a single layer on the skillet, with space around them.
Cook a few minutes until the bottom starts to brown, then flip. Once browned on all sides, remove the meatballs to a plate and set aside. Cook in batches if you have to.
For the soup:
Approx. 6 tbsp olive oil
1 large onion, chopped
3 medium carrots, chopped
6 small potatoes, chopped
Meatballs, as above
1/2 cup all purpose flour
8 cups chicken broth (or 8 cups water and the required amount of chicken bouillon powder)
1 tsp rosemary
1 tsp Montreal chicken spice
1 tsp cayenne powder
1/2 to 1 cup half and half, heavy cream, milk, etc.
In a large Dutch oven or soup pot, heat the olive oil to shimmering. Add the chopped onion and cook until translucent.
Add the carrots, potatoes and meatballs and stir to coat in the oil.
Mix in the flour, cooking, stirring constantly for approximately 1-2 minutes. Not too long. You don't want it to burn.
Slowly add in your liquids, stirring constantly. If you add it to quickly, your flour will stick together and form lumps. Not pleasant!
Add the spices.
Bring the soup to boil, stirring occasionally. Reduce heat and allow to simmer for about 10-15 minutes.
Add the half and half, cream, milk, whichever you please and heat through.
Serve with your favourite bread product or skip the bread and devour.