I am the granddaughter of Dutch immigrants to Canada. Without fail, my grandmother serves soup and buns for Sunday dinner, a tradition that has held strong in the Dutch Canadian community for 50-100 years. Sunday is a day for soup.
In many ways, I love the tradition. I love soup. I could, do, even, eat soup once or twice a week. Comforting, filling, hot, a meal in one dish. Sundays, especially, are a good day for soup. As I step through the door after church, the whole afternoon stretches before me to chop, boil, simmer, stir. On Sunday, my relationship to food, to life, to home, to everything around me is relaxed, content, happy.
It only makes sense that I begin this blog on a Sunday afternoon with soup.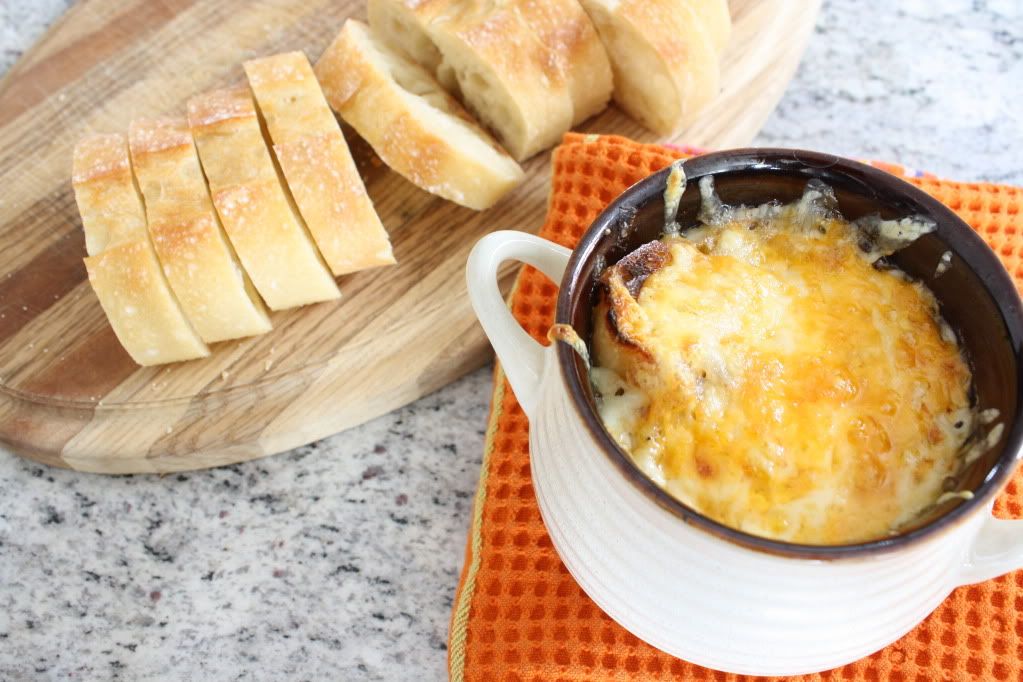 French Onion Soup
(adapted from No Recipes)
5 medium yellow onions
1/4 cup butter or margarine
1/2 tbsp sugar
1/4 cup dry white wine
4 cups beef broth (or 4 cups water and 4 heaping tsp of beef bouillon)
1 tsp oregano
1 bay leaf
1 bagette
1/2 cup old cheddar cheese
1/2 cup swiss cheese
With a nice sharp knife, slice your onions as thinly as you can.
In a large dutch oven, melt down the butter and add the sliced onions, stirring to coat. Add the sugar. Cook on medium - high heat, stirring often, until the onions have just started to caramelize and brown. Turn the heat down a bit and continue to cook, stirring frequently, for approximately 20 minutes to half an hour.
When the onions have beautifully caramelized (they'll be a nice medium brown in colour), add the white wine and the beef broth, the oregano, and the bay leaf. Bring to boil, then reduce heat and simmer for about 10 minutes.
While your broth is simmering, cut your baguette into 1 inch slices. Shred your cheese and mix the two cheeses together. Ladle the broth into oven-safe soup bowls. Place one or two baguette slices on top (depending on how large the baguette slices are) and sprinkle a nice handful of mixed cheese on top.
Adjust your oven rack to the highest possible level. Place your soup bowls on a cookie sheet beneath the broiler and turn it up to high. Watch carefully though! You want the cheese to melt but not burn. When nice and melty, remove the soup from the oven, allow to cool some, and serve that cheesy goodness!