On my birthday two weeks ago, we went to an Italian restaurant and I ordered a parsnip soup to start.
I fell in love.
Solidly, completely.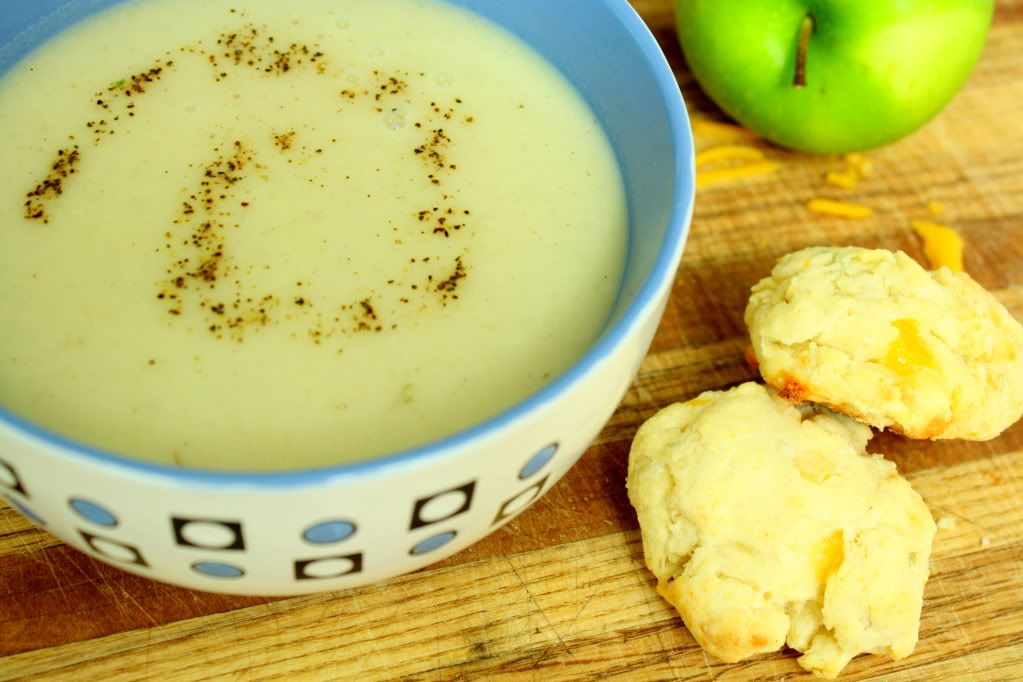 I love pureed soups to begin with but this... this was something special. It was smooth, creamy, sweet and slightly tangy. I could have licked the bowl.
Usually, I only lick bowls that have chocolate in them.
I found a recipe that looked temptingly good and, one evening, sent the Husband to the grocery store for parsnips. They languished in the fridge for a week, then a few more days. We worked hard on the back mudroom and bought a barbecue that called out for hamburgers. And yet, I kept thinking about parsnips.
Yesterday was a gorgeous day. As I ran my half hour cardio workout after work, I could smell the barbecue on the air. It was not soup weather. Not even close.
But I insisted.
And I was well rewarded.
Apple Parsnip Soup
From the Foodess, not adapted at all
Since I didn't touch the recipe in the slightest, I'm not going to share it here. You should probably be reading Jennifer's blog if you aren't already anyway.
Go here to get the recipe.
With the soup, I served a simple biscuit, light and crumbly, the perfect match.
Rosemary Cheddar Biscuits
2 cups all purpose flour
1 tbsp baking soda
1 tsp salt
1 tsp dried rosemary
3/4 cup cheddar cheese, finely grated
2/3 cup milk
1/3 cup oil
Preheat your oven to 450*
Mix together the dry ingredients. Add the cheese, followed by the milk and the oil. Mix until just wet and the batter is pulling away from the side of the bowl.
On an ungreased baking sheet, drop the batter in biscuit sized pieces. Pop into the oven for 10-12 minutes or until the biscuits are golden brown.
Serve with Apple Parsnip Soup.
-~*~-