A week or so ago, Canadian Tire had a crazy barbecue sale going on. Normally, in March, we would probably ignore it. I don't know if you've been paying any attention at all to the weather in Toronto, but, um. We kinda skipped spring and jumped right into summer. Barbecuing season! Yes, 6 weeks early!
So, the Husband left on a Saturday afternoon with a friend and promised to bring back a barbecue.
I think the barbecue might be my best friend.
So far, we christened it with burgers. How could we allow the first piece of meat to touch that grill be anything but burgers? We grilled
Madison's delicious Maple Glazed Grilled Chicken
. And, we bought cheap steaks and slathered them with barbecue sauce in a barbecue celebration.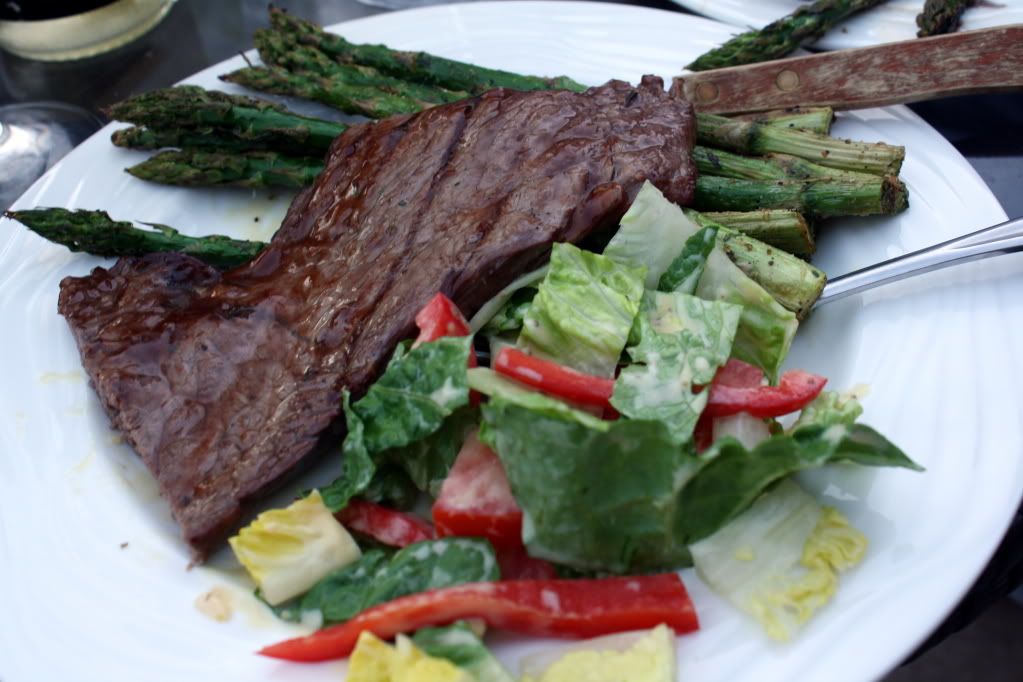 Asparagus is delightful on the barbie too, coated in extra virgin olive oil and plenty of spices and some seasoned salt. And, if you have it, Parmesan cheese. Holy crap, delicious. (We did not have Parmesan cheese. However, still delicious.)
Consume with plenty of wine in your backyard while ignoring the radiator and the pile of junk you've pulled out of your mudroom. Especially if it's a Wednesday and you're feeling kind of crummy to begin with. And thank your husband profusely for grilling you up a steak so you don't have to do it. And for helping you drink that bottle of wine.
Now, we just need a nice big dinner table in the back yard and my barbecuing experience will be perfected.