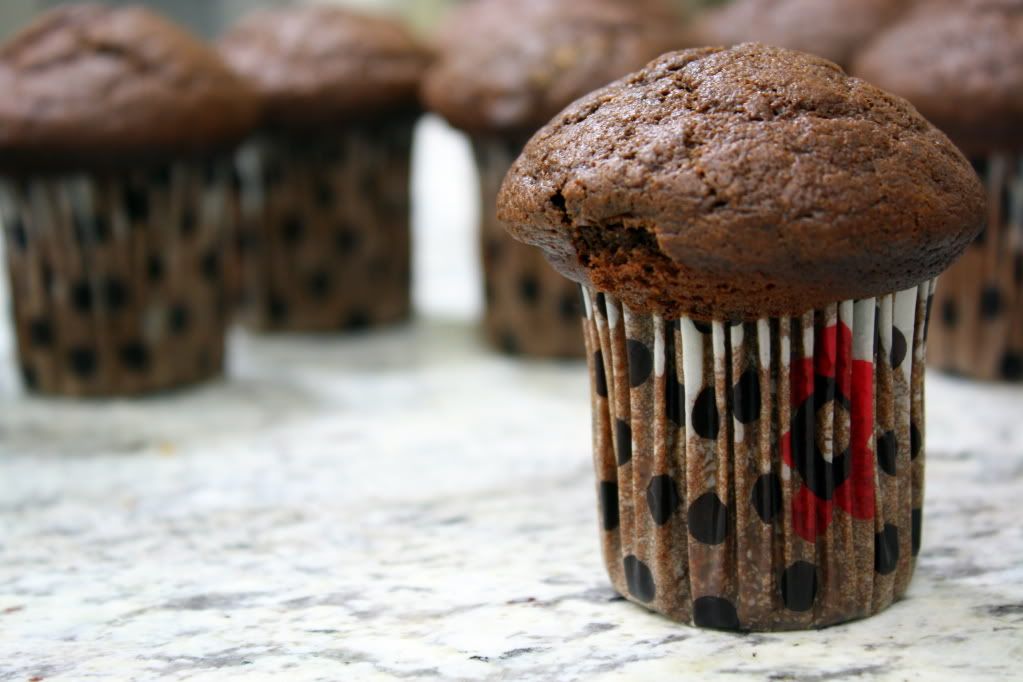 Wednesday night, I was exhausted. With the launch of this new food section of This Dusty House, some big developments and upcoming changes in our renovation plans (more news on that soon! -ish), and all the other stuff I've gotten myself involved in, my brain has been going in circles, unwilling to rest and knocking me off my feet by 7:30.
So, Wednesday night, we ordered Pad Thai.
It was, unfortunately, mediocre.
Still unsatisfied, at 8:30, I dragged myself into an already slightly messy kitchen, threw some dishes in the dishwasher, pulled more out, and made these.
Cocoa. Chocolate chips. And a little bit of ginger to accentuate it all. They're not really a cupcake - too dense for that - but tastier than a muffin. Good enough for breakfast.
Double Chocolate Ginger Muffins
Adapted from 1 Mix, 100 Muffins by Susanna Tee
1 1/2 cups all purpose flour
1/2 cup cocoa
1 tbsp baking powder
1.8 tsp salt
1/2 cup firmly packed brown sugar
1 tbsp grated ginger
2 large eggs
1 cup milk
6 tbsp canola or sunflower oil or melted, cooled butter
1/2 cup chocolate chips
Preheat your oven to 400*.
Mix together your dry ingredients. That's the flour, the cocoa, the baking powder, the salt, and the brown sugar. Make sure there's no lumps.
Whisk together your wet ingredients in a separate bowl. That's the ginger, the eggs, the milk and the oil.
Don't do anything with the chocolate chips yet.
Make a well in the centre of your dry ingredients. Pour your wet ingredients into the well and mix together until the dry ingredients are just wet.
(Why the well? Muffins should never be over-mixed. It will make them super dense and chewy. Not so fun. The well will help reduce the amount of time you need to mix the batter to make all the dry ingredients wet.)
Add the chocolate chips. I like to save them for the end so I can gauge how many I actually want in the recipe. Add more or fewer as desired. Again, just mix - don't overmix!
Scoop the batter into a well greased or lined muffin tin. (I used my new muffin tin from Ikea with a bunch of their cupcake liners that I got in my swag bag at the Canadian Design Bloggers Meetup. They make a really cute, tall muffin with a large muffin top. Love them!)
Bake for 20 minutes. Remove from the oven and allow to cool for a few minutes. Transfer to a wire rack to cool complete. Or just eat them right away. Mmm... warm muffins.
(Actually, these are even better when they have completely cooled. Make sure you store them in a sealed container or bag to keep all their delightfully moist texture in.)
-~*~-