My parents have a few acres of bush that cover a huge rolling hill on their 100 acre property. There was a trail already existing when they bought the place almost 8 years ago, but they've worked hard to maintain it, improve it. We walk through the bush nearly every time we go visit.
On our last visit, the trilliums were in full bloom, white petals open beneath the dappling canopy, speckling the hills and the path with pretty, white, and oh-so-Ontario flowers. As we tromped through, my dad pointed to a large patch of leafy plants, plants I've seen a million times over but have never paused to give a second look.
- These are wild leeks, he said. Go ahead - taste the leaf.
I broke off a leaf and popped one in my mouth. The oniony flavour was overpowering, surprising enough that I spit it out a couple steps later, but, by the end of the walk, I was determined to go back and dig up a handful to bring home. Foraging at its finest.
Also known as ramps, Wikipedia tells me. They're stronger than a normal onion and nothing at all like a normal leek. It's a misnomer, really.
Admittedly, I was at a loss as to what to do with them. Google searches revealed very little about popular recipes that would bring out their flavour the best. People don't generally cook with them, it seems. Most are likely completely unaware of their existence. So, I fell back on what I knew best, popped their bulbs in a dutch oven with some oil, sauted them to translucent, and made a soup.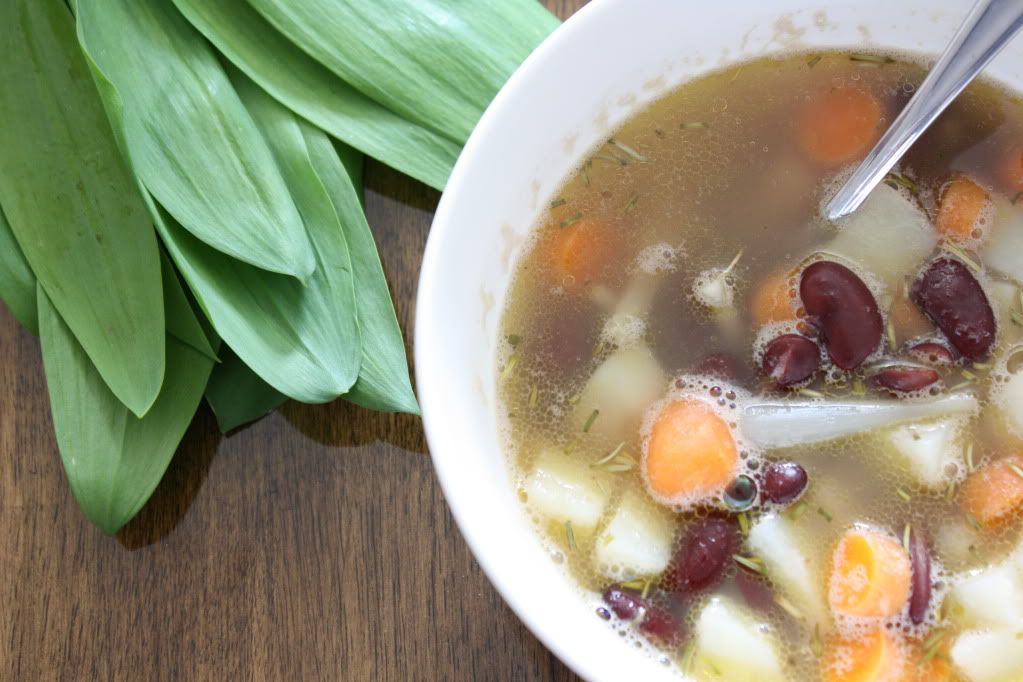 The leaves, I popped into the fridge, where they still languish. I've sprinkled them on salads, consumed them with my Saturday morning poached egg and toast, and contemplated blending them into a pesto. Still they sit.
Wild leeks are done in mid-June. It's my hope I'll be able to get back to the bush to pick some more before then. Growing seasons and how plants change over time fascinate me. Will their bulbs get bigger, their leaves stronger yet in flavour?
Wild Leek and Veggie Soup
1 tbsp olive oil
A handful of wild leeks, bulb part only
2 carrots, chopped
2 potatoes, chopped
4 cups vegetable stock
1 tsp dried rosemary
1 can black beans, rinsed
In a large pot or dutch oven, head the olive oil. Add the wild leeks and saute as you would onions until translucent. Add the carrots and potatoes and mix in. Add the vegetable stock and the rosemary. Bring to a boil. Reduce heat to a simmer. Add the black beans.
It's a delicate tasty soup, but I wish I could have found something that would have made the flavour of those wild leeks sing just a little bit more.