I've been so good the past two weeks, carefully eating healthy foods, allowing myself a treat or two, focusing on getting as much exercise as possible, feeling amazing. And I do; I really do feel great. Eating lots of fresh foods rich with nutrition has been good for me. Getting to the gym when I can and taking the dog for long walks when I can't has been amazing, strengthening.
On the other hand, I've been craving fresh baked goods. You know the kind: gooey chocolate cookies, warm out of the oven, fresh bread, still steaming as it's broken open, sticky cinnamon buns and soft, fresh croissants.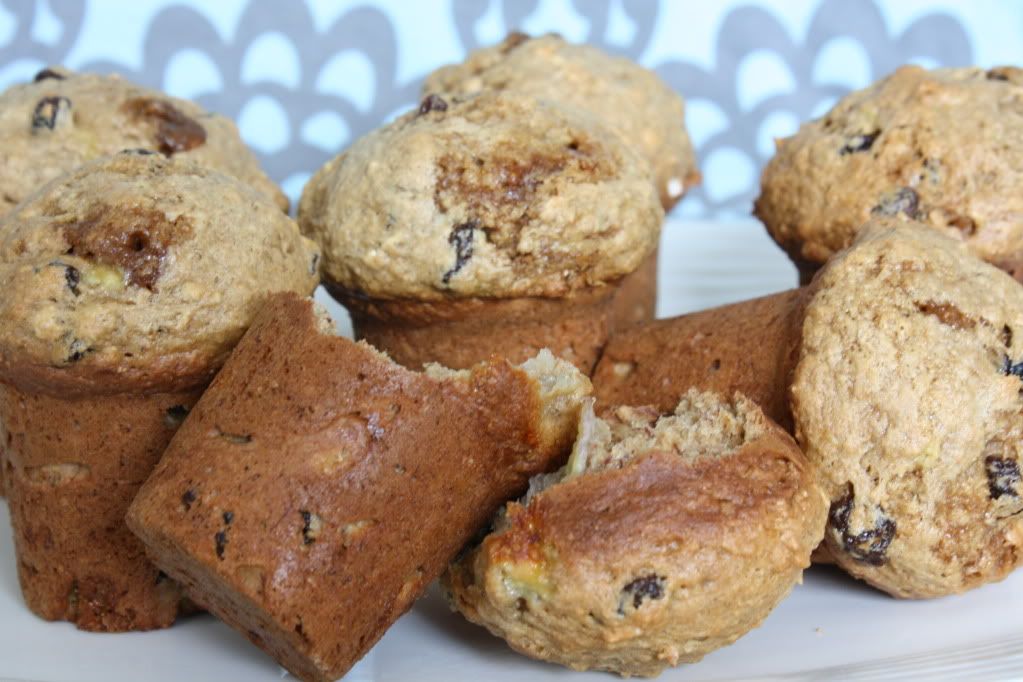 In other words, all that is buttery and rich and oh-so-bad-for-you.
I don't necessarily crave the foods themselves. In fact, if someone showed up at work with a stack of chocolate chip cookies, I believe I could keep it to just one or resist altogether. Rather, it's the act of baking, of creating, of measuring and mixing and finally pulling something delicious and perfect and to-die-for from the oven.
But I won't. Because as soon as I start by measuring out that first cup of flour, I'm doomed to eat the whole dozen.
Instead, on the weekend, I made these. Whole wheat, banana, applesauce, raisins. You know. Healthy. But also tasty! Definitely delicious, especially right out of the oven. They're moist, hearty, fresh. They likely won't cure a craving for chocolate and high volumes of sugar, but they definitely fit the bill for fresh baked goods. Especially warm, cut open and slathered with a little - or a lot of - butter.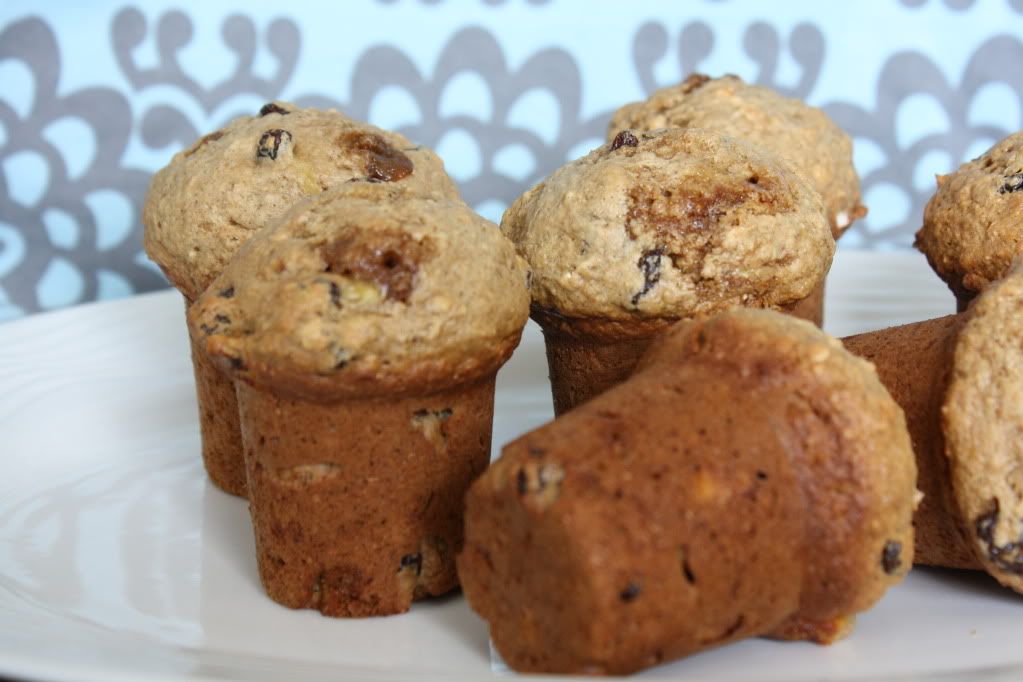 Banana Bread Muffins (adapted from Allrecipes)
1 cup all-purpose flour
1 cup whole wheat flour
1/4 cup rolled oats
1 tsp baking soda
1/2 tsp ground cinnamon
1/2 tsp ground nutmeg
1 cup brown sugar
2 eggs
1/3 cup unsweetened applesauce
3 ripe bananas, mashed
1 tbsp vanilla extract
1 cup raisins
Mix together the dry ingredients.
In a separate bowl, mix together the wet ingredients.
Make a well in the middle of the dry ingredients and pour the wet ingredients into it. Mix quickly until just combined, but don't over-mix or your muffins will be tough and chewy.
Fold in the raisins.
Spoon into a greased muffin tin and bake at 350* for 20 minutes. When finished, the tops will be golden brown and a toothpick inserted into the centre of the muffin will come out clean. Turn the muffins out onto a cooling rack or consume right away with as much butter as you wish.
Now, I'm on the hunt for more recipes like this, tasty ones that keep the fat content down and an eye on the sugar, that use whole wheat and grains instead of the white stuff. And maybe something with chocolate. Do you have any to share?